HVAC Service in Woodland, WA
Enjoy coming to work everyday!
Your Local HVAC Installation, Air Conditioning and Electrical Specialists
Do you need repairs for your air conditioning system? Is your gas furnace giving you trouble? Is your heat pump on the fritz in Woodland? Call Advanced Air Systems today. We have been the HVAC contractor that Woodland residents have called since 1991.
Air Conditioning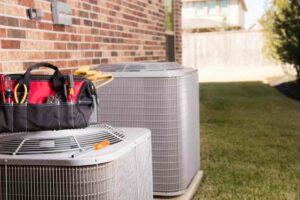 The heat of summer can make your home feel hot and uncomfortable. Don't wait another summer to enjoy cool temperatures on the hottest days. We offer high-efficiency central air conditioning systems that will cool your home without driving up your electric bills.
Heat Pumps
Heat pumps offer one system that handles both the heating and cooling in your Woodland area home or business. Here at Advanced Air Systems we offer high-efficiency heat pumps that will heat and cool your home at the lowest cost possible. Pair it with one of our variable speed air handlers and you will enjoy a comfortable home (and lower energy bills) year round.
Ductless Heat Pumps
Do you want to replace your baseboard heaters or wood stove with something more efficient? Ductless heat pumps are the answer. Quiet and super efficient, these systems are also perfect for new construction or additions to your existing home. Ductless heat pumps consist of a small outside unit connected to a wall-mounted inside unit through a small hole in the wall. Very simple and very efficient.
Gas Furnaces
Natural gas furnaces have long been a staple for heating the home during a chilly Woodland winter. They offer comfortable warmth to every part of your home. If you want to install a new furnace or replace your old one, we have high-efficiency gas furnaces that will deliver the warmth without using a lot of natural gas.
Incentives and Special Financing Available!
HVAC Service and Maintenance
We offer industry-leading HVAC service and maintenance for all brands. Give us a call to schedule annual service or repair work. Our Comfort Assurance Program includes annual maintenance for both your heating and cooling system as well as discounts on HVAC service and maintenance.
Certified Electrical Contractor
We are a fully licensed and certified electrical contractor, able to handle all of your residential electrical needs. Whether you are having electrical problems, need a new circuit installed, or want your electric panel upgrades, we can do the job.
Contact Advanced Air Systems to Service Your Woodland, WA Home
We offer full installation, service, and maintenance for air conditioning, ductless heat pumps, and gas furnaces. We also provide full HVAC service and maintenance as well as being a certified electrical contractor. Contact us today!