High Efficiency Gas Furnaces
Enjoy coming to work everyday!
American Standard High Efficiency Gas Furnaces
Extraordinary comfort with efficiency in mind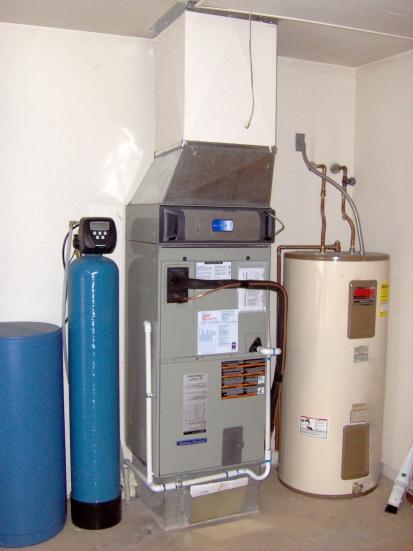 American Standard gas furnaces are intelligently designed with comfort features integrated throughout. When it comes to furnaces, their quality, reliability and absolute dedication to creating an ideal home environment are simply unmistakable.
These high-efficiency gas furnaces are uniquely designed to provide maximum heat with minimal fuel usage. Each furnace has self-diagnostic controls – a solid-state "brain" that constantly adjusts performance for maximum efficiency and ultimate comfort in every room of your home.
Efficiency that meets requirements for ENERGY STAR and energy tax credits
The efficiency of any furnace is measured by a percentage known as Annual Fuel Utilization Efficiency (AFUE), a standard set by the U.S. Department of Energy.
Furnaces that surpass 90% AFUE qualify as ENERGY STAR, due to their exceptional level of efficiency. American Standard's Freedom 95 furnaces meet and exceed this standard, delivering up to 96.7% AFUE. As a result, you enjoy superior efficiency and cost-effective comfort.
If your current furnace is at least 10 years old, it probably has an AFUE of 60-70%, meaning up to 40 cents of every dollar you spend to heat your home is wasted. It's time to spend less and enjoy consistent, cozy comfort with an American Standard gas furnace.
Freedom 95 gas furnaces deliver dependable warmth
– day after day, through the coldest of winters, for years to come
Furnaces with multiple stages of heat, like our premium models, typically run at lower, more efficient stages most of the time – stepping up to additional stages only during the coldest days for energy-conserving operation that helps you save on your monthly heating bills.** And when the heating cycle ends, the blower runs a few moments longer – increasing air circulation and evenly distributing warmth throughout your home.
Enjoy a comfortable climate faster with variable speed and Comfort-R
Freedom 95 gas furnaces come with a variable-speed blower motor and advanced Comfort-R technology for greater comfort and significant energy savings. A variable-speed blower motor puts an end to noisy startups and shutdowns that interrupt your peace and quiet.
It also automatically varies its speed based on your comfort demands, reducing temperature variances and operating more efficiently to help you control energy costs. And during cooling, the sophisticated Comfort-R feature helps control humidity to reduce dust mites and make your home feel even cooler. Potential energy savings may vary depending on your lifestyle, system settings, equipment maintenance, local climate, home conditions and installation of equipment and duct system.
Incentives and Special Financing Available!
Relax in quiet comfort… and enjoy the savings, too
Designed with innovative, sound-reducing components like insulated cabinets and ultra-quiet blower motors, American Standard's Freedom 95 variable-speed furnaces ensure optimal comfort with minimal operating noise. And with exceptionally high AFUE ratings bolstered by energy-saving features like a variable-speed blower motor and two-stage or fully modulating heating, you can make the most out of every heating dollar and enjoy dependable, comforting warmth every single moment.

Raise your comfort level even more
When you choose an American Standard Freedom 95 furnace, you'll enjoy the consistent comfort it brings. But you can enhance its performance even more when you make it part of a "matched system."
A matched system includes multiple American Standard Heating & Air Conditioning products – such as air conditioners, furnaces, air cleaners and ERVs – each of which has been designed and engineered to work seamlessly with the others to enhance overall performance for a total comfort effect that is greater than the sum of its parts.
There is simply no better way to create your ideal home environment. A common matched system includes:
Furnace: indoor unit that uses gas to warm your home in the winter
Air conditioner: outdoor unit that cools your home on the hottest days with reliability you can count on, year after year
Indoor coil: the other, less visible half of your heat pump. As indoor air flows across it, heat and moisture are drawn out, leaving air that is cool, comfortable and conditioned
Air cleaner: available in a variety of models, from standard filters to fully integrated air filtration systems, that remove up to 99.98% of airborne allergens from the filtered air in your home
Thermostat Control: easy-to-use, easy-to-read, attractively designed thermostat that maximizes temperature control