High Efficiency Air Conditioners
Enjoy coming to work everyday!
American Standard High Efficiency Air Conditioners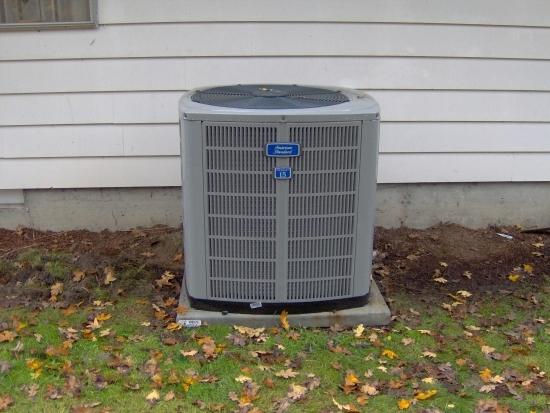 Allegiance air conditioners offer you the ultimate in home comfort with the durability, reliability and performance that have made American Standard an industry leader. Our Allegiance air conditioner family features exclusive, state-of-the-art technology that increases efficiency and quietly and meticulously conditions your air, delivering a level of comfort you and your family may never have experienced before.
Two Stage Air Conditioning
The Allegiance 16 and 20 can provide you with greater, more even comfort than most single-stage compressor systems. Employing dual and two-stage compressors, each runs at an energy-saving capacity most of the time. Running at lower speeds longer also removes more unwanted moisture from the air.
With less humidity, you feel cooler and more comfortable. On extremely hot days, these compressors shift compressor operation, or stages, for a heightened level of cooling to ensure you stay comfortable.
Incentives and Special Financing Available!
Variable Speed Blower Motor
Allegiance 20 communicating and select Allegiance 16 air conditioners come with a variable speed blower motor with our exclusive Comfort-R feature to remove humidity from your home during hot summer days. Lowering the humidity can lead to savings by reducing moisture levels in the air, so you can keep the thermostat at a higher setting and still feel comfortable.
Another benefit: because dust mites need higher humidity to thrive, they will be reduced, allowing your family to breathe easier. Potential energy savings may vary depending on your lifestyle, system settings, equipment maintenance, local climate, home conditions and installation of equipment and duct system.
Quiet Air Conditioner
Allegiance air conditioners offer unequalled durability and quiet, reliable comfort. A composite material is used for the basepans – so they won't crack, warp, corrode or rust. Each air conditioner comes with louvered panels to protect its coil from Mother Nature and corrosion-resistant paint to prevent rusting.
Each compressor is even wrapped with sound insulators to decrease noise levels. That way you don't have to turn the TV up when the air conditioner is on. And we make them child safe, so little fingers can't get in. Which means you can really relax in quiet comfort.
When you choose an American Standard Allegiance air conditioner, you'll enjoy the consistent comfort and efficiency it brings – performance that is maximized when you make it part of an American Standard "matched system."
A matched system is composed of multiple American Standard Heating & Air Conditioning products, each designed and engineered to work seamlessly together for a total comfort effect that is greater than the sum of its parts. There is simply no better way to create your ideal home environment.
A common matched system includes:
Air conditioner: outdoor unit that cools your home on the hottest days with reliability you can count on, year after year
Gas Furnace: indoor unit that uses gas to warm your home in the winter
Indoor coil: the other, less visible half of your heat pump. As indoor air flows across it, heat and moisture are drawn out, leaving air that is cool, comfortable and conditioned
Air cleaner: available in a variety of models, from standard filters to fully integrated air filtration systems, that remove up to 99.98% of airborne allergens from the filtered air in your home
Thermostat Control: easy-to-use, easy-to-read, attractively designed thermostat that maximizes temperature control and allows you to easily shift operation between your heat pump and furnace