Variable Speed Air Handlers
Enjoy coming to work everyday!
American Standard Air Handlers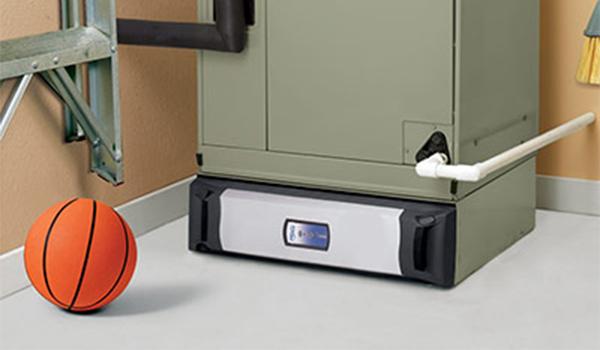 American Standard air handlers offer you the ultimate in home comfort with the durability, reliability and performance that have made American Standard and industry leader.
These air handlers feature exclusive, state-of-the-art technology that increases efficiency and quietly circulates your conditioned air, delivering a level of comfort you and your family may have never experienced before.
Variable Speed Blower Motor
What difference can a multi-speed or variable-speed blower motor make to your comfort level? The answer is a big one. If your current home comfort system has only two choices – on or off – you may experience drafty rooms, wider temperature swings and a loud clang at startup or shutdown.
However, when you install an American Standard air handler with a multi-speed or variable-speed blower motor, you can count on incredibly quiet operation, consistent comfort and perfectly conditioned air distributed evenly throughout every room of your home.With a variable-speed model, you'll also enjoy the benefits of an air handler that automatically adjusts its speed based on your heating and cooling demands – a difference that may help you save on your monthly bills.*
And by ramping up slowly, instead of coming on all atonce, there'll be no more shocking blasts of hot or cold air.*Potential energy savings may vary depending on your lifestyle, system settings, equipment maintenance, local climate, home conditions and installation of equipment and duct system.
Control Humidity with Comfort-R
Simply match a high efficiency air conditioner or heat pump with a variable-speed air handler, featuring our patented American Standard Comfort-R technology, to remove humidity from your home during those hot summer days.
Lower humidity can lead to savings by reducing moisture levels in the air so you can keep the thermostat at a higher setting and sill feel comfortable. Another benefit: because dust mites need higher humidity to thrive, they will be reduced, so your family can breathe easier.Comfort-R mode also offers a warmer startup during heating with a heat pump so you don't feel a blast of cool air when you're looking for warm and cozy.
Incentives and Special Financing Available!
Advanced Air Filtration System
When you choose an American Standard air handler with a variable-speed blower motor, you can count on quiet operation and comfortable temperatures.
And when you select one of the models featuring integrated AccuClean technology, you get the exceptional efficiency and quiet operation of an American Standard air handler, plus the most advanced air filtration system on the market built right into the cabinet – a space-saving innovation that lets your family get even more comfortable by raising the standard for cleaner indoor air.
When you choose an American Standard air handler, you'll enjoy the consistent comfort it brings. But you can enhance its performance even more when you make it part of a "matched system."
A matched system includes multiple American Standard Heating & Air Conditioning products – such as air conditioners, furnaces, air cleaners and ERVs – each of which has been designed and engineered to work seamlessly with the others to enhance overall performance for a total comfort effect that is greater than the sum of its parts.
When the size and SEER ratings of your outdoor and indoor units match, you will enjoy the highest system efficiency possible. There is simply no better way to create your ideal home environment.
The most common and effective matched system includes:
Air han

dler

: indoor unit that works with an air conditioner or heat pump to circulate conditioned air in homes that use electricity instead of gas. Variable-speed models increase efficiency
Heat pump: outdoor unit that warms your home in the winter and cools your home in the summer with quiet, reliable efficiency
Air cleaner: available in a variety of models, from standard filters to fully integrated air filtration systems, that remove up to 99.98% of airborne allergens from the filtered air in your home
Thermostat Control: easy-to-use, easy-to-read, attractively designed thermostat that maximizes temperature control