HVAC Service in Ridgefield, WA
Enjoy coming to work everyday!
Your Local HVAC Installation, Air Conditioning and Electrical Specialists
Whether you need an installation or repair for your HVAC system in Ridgefield WA, you can always count on the Advanced Air Systems company. We offer low, affordable prices on a wide variety of repairs and installs.
We also extend fast service alternatives for our customers so that you can have your system working in no time. Our company can do air conditioning and heating work for your home. Moreover, our workers are trained and specialize in electrical work. Rest assured that we will send a certified electrical contractor to do the job.
HVAC Service and Maintenance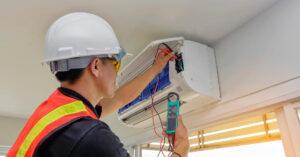 Once a certified electrical contractor gets to your Ridgefield home or business, they will be able to assess the status of your air conditioning unit or HVAC system. As part of our HVAC service and maintenance options, we can repair your coils if they are frozen over or need to be replaced. Our techs can also work on unclogging your drainage pipes, which can lead to weak air flow in your HVAC system.
Ductless Heat Pumps
When it comes to heat pumps, our workers can offer installs or repairs on ductless heat pumps. These types of heat pumps can save you money and are easier to install compared to traditional HVAC systems. Moreover, a ductless system can be more appealing if you don't have room for ducts in your home. You will be able to get a ductless system for both your heating and cooling needs.
Incentives and Special Financing Available!
Gas Furnaces Installed by the Experts
If you prefer gas furnaces for your heating needs, we will be able to install a new one for your home. Our techs will use the right tools and equipment to install the furnace. By doing this, we guarantee great results on installations and repairs. In the end, you will have your gas furnace working properly for many years.