HVAC Service in Longview, WA
Enjoy coming to work everyday!
Your Local HVAC Installation, Air Conditioning and Electrical Specialists
Are you looking for HVAC service in Longview, WA? Call Advanced Air Systems today. We are the company Longview residents can rely on for all their heating, cooling, and electrical needs.
Air Conditioning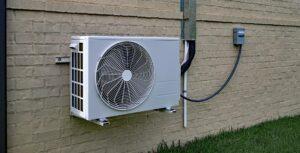 Hot summer days in Southwest Washington translates to uncomfortable temperatures inside our homes. A high-efficiency central air conditioning system can keep your home comfortable during the hottest days of summer. Our programmable thermostat ensures that your home is comfortable, day and night.
Heat Pumps
Looking for an efficient way to heat and cool your home? A heat pump is the answer. It can save up to 50% on your home heating bills because they are more efficient than other types of heating systems. We offer high-efficiency heat pumps for ultimate savings. Our selection of variable speed air handlers will circulate the air in your home quietly and efficiently.
Ductless Heat Pumps
Simplicity is the name of the game when it comes to ductless heat pumps. These low-cost, high-efficiency systems are perfect for new construction and additions as well as replacing baseboard heaters, wall heaters, or wood stoves.
Gas Furnaces
For those who like a toasty warm home in the winter, a natural gas furnace is a top choice. It delivers temperatures between 120 and 130 degrees Fahrenheit at the register, giving the home an enveloping sense of comfort.
Incentives and Special Financing Available!
HVAC Service and Maintenance
HVAC systems will break down on occasion. That's when you need the service of a reliable HVAC contractor. We are here to help Longview homeowners and business owners with any repair needs you might have.
Heating and cooling systems need routine maintenance to continue working at their most efficient. You can rely on the techs here at Advanced Air Systems to keep your systems running at their very best. We offer our Comfort Assurance Program that gives you annual maintenance on both your heating and cooling systems. The program also give members discounts on maintenance, repair, and service.
Certified Electrical Contractor
You depend on the electricity in your home to do its job without fail. When there's a problem, you need to bring in a certified electrical contractor to troubleshoot the problem. Our team of electricians can handle everything from installing a new outlet to completely rewiring your home.
Whether you need repairs, upgrades, or maintenance, Advanced Air Systems is here to help. Call us at (360) 693-1757 for all of your heating, cooling, and electrical needs.